Our Founder
Christina's Story
The DrinkMe story isn't just about whole food health, it's also about its creator, Christina Paganelli's whole commitment as an entrepreneur.
Christina says, "All along the way, over the past 18 years as I've built up and shared DrinkeMe, I've been digging deeper into who I am, to become physically healthy, to be an in-touch mom, but also connecting with my emotional and soulful essence. DrinkMe has saved me in so many ways, but the business has also challenged me to find within myself a resilience that I didn't know I had."
Christina is no stranger to the idea of resilience, she had plenty of practice. After being diagnosed at age 25 with multiple sclerosis, she learned six months later that she had thyroid cancer—while being four months pregnant with her first child. The diagnosis was devastating and required a major surgery to remove her thyroid gland, several lymph nodes, and tissue from voice box, nerves and trachea, at which time they found the cancer had metastasized to her lungs. After treating the cancer with radioactive iodine, six months later, the tumors were unchanged, in advanced stage 4, and she was sent home to wait it out.
"By age 26, I had been poked and prodded long enough. I appreciated all of the medical care that I received, but I decided I had to take my health into my own hands. My science degree in chemistry came in handy, enabling me to analyze my situation and undertake an enormous amount of research into enzymes, probiotics and raw food," says Christina.
Following a whole food health regimen, Christina detoxified her body and found healing. DrinkMe was born out of an intense discovery and experimentation period. By detoxing the body and fuelling it with extremely high nutritious foods, derived only from plants, Christina focused on healing. Following this extreme diet ultimately resulted in the creation in a unique process to capture all of the whole-food goodness of kale, fruits and other vegetables, delivered up in an easy and tasty beverage. While also following the advice of doctors, Christina remained cancer free for over 18 years, had a second child, and continued to build up DrinkMe internationally.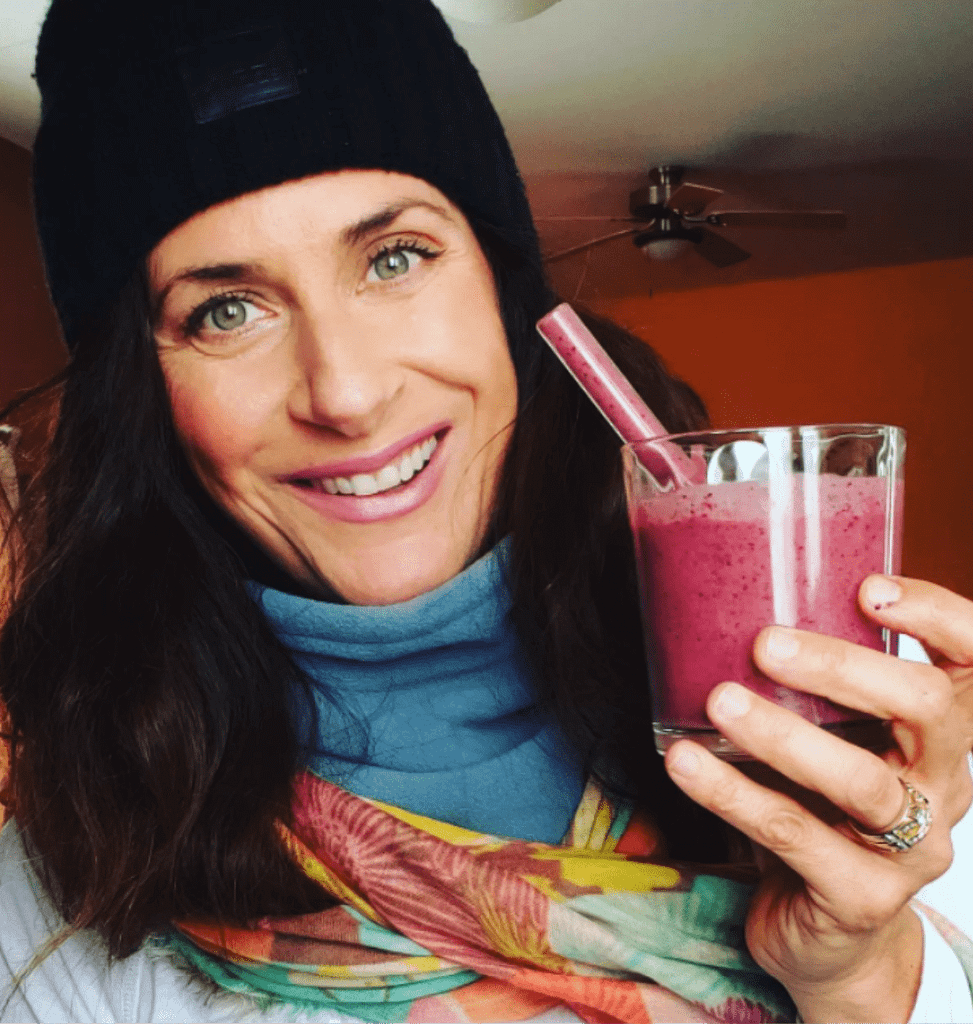 While dismissing claims of kale being some miracle cure, recent medical consultation confirms that Christina continues to be cancer free. Crediting her focus on whole-food nutrition and regularly detoxifying her body, DrinkMe has helped Christina live her best life and is a testament to a life well lived.
As an entrepreneur Christina has contributed to food science, won awards for business, and continues to deliver the wholesome goodness of DrinkMe, in person, to people throughout Canada and the United States.
"As an entrepreneur, the events of the past 2 years has had a dramatic impact on the supply chain," says Christina. "With supplies and transportation in short supply and high demand, I drive my own goods. As I travel throughout the west coast , sharing my story, I am met by people who are themselves changed by the shift into a new way of life, seen tough years, who have their own stories of resilience. They take the time to chat, to make a connection, and to make thoughtful decisions about what they're eating. Eating whole foods should be easy and delicious, and with DrinkMe it is. I believe DrinkMe is fuel for body, mind and soul. They love DrinkMe, and I hope you do too."
Super nutrition, Super easy, Superfood – Kale
Every DrinkMe beverage contains the star of the show – kale. Why? Because it's one the best superfood available, but also one of the hardest foods for people to integrate into their daily meals. For some, raw kale is an acquired taste, sometimes taking on a bitterness that makes it unpalatable. DrinkMe founder, Christina Paganelli, has unlocked the secret to making kale taste amazing, combining it with whole fruits in a delicious beverage – you won't believe you're drinking whole raw kale.
Kale is loaded with antioxidants and great nutritional value. But to get the most of this superfood, you must ingest the whole plant – the fiber puts the super in superfood!
Providing high levels of vitamin C, selenium and nutrients like vitamin E and beta-carotene – you're supporting your immune system when you choose kale. It has plant-based calcium, and vitamins K and D – all of which supports bone health. Lutein and zeaxanthin support eye health. And more studies are being done to investigate how kale can help reduce cholesterol and how certain substances may even help protect your body against cancer.
Gallery
"While DrinkMe has nourished my body, sharing its whole food goodness with all of you has nourished my soul. Thank you for the opportunity to share my passion for life and commitment to whole food health."
– Christina Paganelli